Planning a romantic getaway in South Africa can be both exciting and overwhelming at the same time. Even you fight feel afraid a bit since a romantic trip to safari is not a common holiday destination. But this is where the fun begins. Even though romantic safaris getaways are not much common, they provide you an exciting opportunity to go on date or honeymoon with your loved one.
How to Plan a Romantic Safari Getaway in South Africa
Here are the tips to make your romantic travel exceptional
Celebrate Nature:
South Africa's allure lies in its breathtaking landscapes and wildlife. So try to embrace the inherent connection to nature by choosing a safari destination that could provide you a valuable mix of wild jungles and breathtaking beaches. The scenic landscapes in the country are promising to disconnect you from the world and reconnect with eachother as a couple.
Book Outside of High Season:
For a perfect romantic escape, consider traveling outside peak seasons. Safari travel has a peak season in summer, especially during May to October. This is the time where you find most of the crowd out there, which means that the prices of your romantic getaway can go high exponentially.
But if you are ready to sacrifice on some wildlife sightings, the period other than May – October can be the best time for a romantic safari trip. You will only miss some animal sightings during this time, but get the highly affordable packages.
However if budget is not an issue and you are completely fine with the high crowded safaris, then May – October is the perfect time to go.
Get to Know the Place Well:
Discovering a new place or exploring new areas together can deepen the bond between couples. By immersing yourselves in the vibrant South Africa culture and stumbling upon surprising art or beautiful green spaces, you can create truly special moments.
It's also recoemmned to study about the areas where you are going a bit, so that you have to speak while talking with your partner.
Disconnect From the Outside World:
South Afirca's exceptional safari destinations offer the perfect opportunity to reconnect on a deeper, intimate level. It is always a best practice to keep your devices shut down or at least on the silent. But yes, you have to take photos obviously. For this you can have a good camera during your romantic trip.
Book a Room With a View:
A romantic getaway is incomplete without breathtaking views. Opt for a resort with oceanfront balcony rooms or suites, allowing you to witness stunning sunsets and create lasting memories. 
Let the Concierge Take the Reins:
Pampering and surprises are key elements of a memorable romantic getaway. Allow the concierge to create personalized experiences that cater to your preferences, ensuring a truly unforgettable trip.
Ask for In-Room Details:
Enhance the romance by requesting special in-room arrangements such as rose petal turndowns, customized sweet treats, or private candlelit dinners on your suite's terrace.
Account for Downtime:
While it's tempting to pack the itinerary with activities, remember to strike a balance. Plan moments of downtime to relax and enjoy each other's company. At the end of the day, most valuable moments will be the one you spend together.
Ensure Shuttle Options:
To fully let loose and enjoy the romantic South African safari getaway getaway together, consider accommodations that provide shuttle services to safari parks. Leave the driving to the professionals and allow yourselves to unwind and indulge in intimate moments.
Splurge for Extra Amenities:
For couples seeking comfort and seclusion, opt for spacious and secluded guestrooms with added amenities. Cozying up next to a roaring fireplace can create a truly romantic atmosphere. Don't hesitate to spend some extra bucks if you are making the memorable moments out of it.
Step Out of Your Comfort Zone:
One common piece of advice from experts is to try something new together. South Africa offers a plethora of unique experiences. Whether it's tasting local delicacies you wouldn't usually try or engaging in thrilling activities that push your boundaries, stepping out of your comfort zone can create unforgettable memories and strengthen your bond as a couple. And the things you are doing together for the first time can have a long lasting impact on your relationship.
Seek Local Recommendations:
When planning your romantic safari getaway in South Africa, don't hesitate to reach out to locals for recommendations. Whether it's the hotel staff, tour guides, or fellow travelers, they can provide valuable insights into hidden gems, off-the-beaten-path attractions, and romantic spots that are not to be missed. Their firsthand knowledge can help you uncover the most enchanting experiences in South Africa.
Have a Special Focus on your Privacy
Privacy and Intimacy: Ensure that the accommodation provides a level of privacy that suits your preferences. Look for lodges that offer secluded spaces, whether it's private dining areas, intimate lounges, or secluded spots within the property where you can relax and connect as a couple.
Safari Places for Romantic Getaways in South Africa
Now its time to pick up that special safari destination in South Africa that will make your journey even better. Here is where you can go to have a romantic safari getaway in South Africa.
Kruger National Park
Kruger National Park offers a captivating and romantic setting for a getaway, immersing couples in the beauty of the African wilderness.
The vast expanse of the park, covering nearly 20,000 square kilometers, provides a sense of adventure and exploration, perfect for couples seeking a memorable safari experience.
The park is renowned for its diverse wildlife, including the iconic Big Five, offering couples the opportunity to witness these magnificent animals up close.
With a wide range of accommodation options available, couples can choose from luxury lodges, private camps, or even romantic treehouses, ensuring a comfortable and intimate stay.
Kruger National Park offers various activities tailored for couples, such as private game drives, where you can enjoy the exclusivity of the wilderness and create cherished memories together. The park's stunning landscapes, from vast plains to picturesque rivers, provide breathtaking backdrops for romantic moments and photo opportunities.
Couples can enjoy sunset or sunrise game drives, witnessing the magical colors of the African sky while surrounded by wildlife.
Kruger National Park also offers the chance to experience guided bush walks, allowing couples to connect with nature on a deeper level and appreciate the smaller wonders of the African bush.
The park's abundance of bird species makes it a paradise for birdwatching enthusiasts, offering a peaceful and romantic activity to enjoy together. Kruger's secluded picnic spots provide intimate settings for couples to enjoy a romantic meal surrounded by nature, creating a truly memorable dining experience.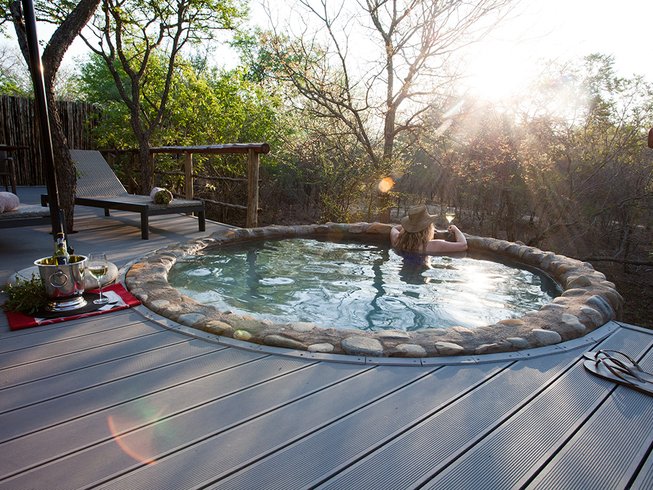 5 nights' luxurious and romantic accommodation
Game drives and Big 5 spotting
English speaking guides
Birdwatching at Kruger National Park
Morning walk and trip to Blyde River Canyon
Sabi Sands Game Reserve
Sabi Sands is located adjacent to Kruger National Park and is renowned for its luxurious lodges and exceptional wildlife sightings. Couples can enjoy exclusive and intimate experiences with the Big Five (lion, leopard, elephant, rhino, and buffalo) in their natural habitat.
The reserve offers highly trained guides who provide insightful information during private game drives, allowing couples to witness incredible wildlife encounters up close.
Additionally, Sabi Sands provides opportunities for romantic activities such as guided bush walks, where couples can explore the wilderness hand in hand, and special candlelit dinners under the starry African sky.
Close to all major attractions
Exceptional Landscape views
Big 5 spotting and birding
Rejuvenate at a cosy wellness clinic
Romantic lodges
Madikwe Game Reserve
Situated near the border with Botswana, Madikwe Game Reserve offers a tranquil setting for couples seeking a romantic safari experience. The reserve is known for its diverse wildlife population, including the Big Five, and provides intimate lodges that cater to romantic getaways. Couples can enjoy private game drives where they can spot a wide range of animals in their natural habitat. The reserve's secluded lodges offer privacy and a serene atmosphere for couples to relax and unwind. To enhance the romantic experience, Madikwe Game Reserve offers candlelit dinners, allowing couples to savor delicious cuisine while surrounded by the sights and sounds of the African bush.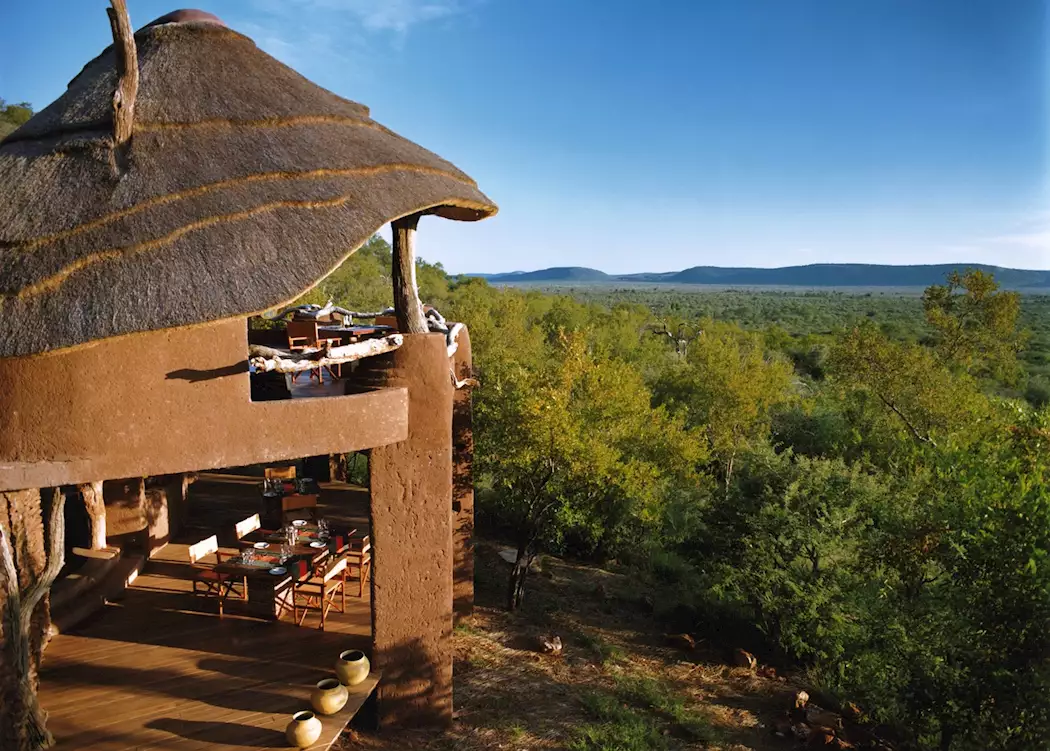 Wildlife sighting in an open land cruiser
Game drivers with Big 5 sighting (Almost all the wild animals including impalas, zebram girafeem wildebeest, Kudu etc.)
Luxury accomodation
Bird watching and night drives
Short and Crisp tour
Some other romantic safari getaways in South Africa inlcude:
Timbavati Private Nature Reserve
Timbavati offers a secluded and intimate safari experience with luxurious lodges. Couples can enjoy private game drives, where they can spot the Big Five and other wildlife up close. The reserve is known for its beautiful landscapes and offers a tranquil setting for romantic moments.
Phinda Private Game Reserve
Phinda boasts diverse ecosystems, including wetlands, savannahs, and sand forests. Couples can embark on boat cruises to witness incredible wildlife sightings, take romantic walks through the bush, and enjoy luxurious accommodations. The reserve provides a unique and unforgettable safari experience.
Thornybush Private Game Reserve
Thornybush is renowned for its pristine wilderness and luxury accommodations. Couples can go on private game drives to encounter wildlife such as lions, elephants, and leopards. The reserve also offers romantic bush dinners under the stars, creating a magical atmosphere for couples.
Kapama Private Game Reserve
Kapama provides a romantic setting with its luxurious lodges and breathtaking landscapes. Couples can embark on private game drives to spot the Big Five and enjoy intimate moments in the African bush. Spa treatments and romantic sundowners overlooking the stunning scenery are also available.
Tswalu Kalahari Reserve
Tswalu Kalahari Reserve offers a unique and exclusive safari experience in the Northern Cape. Couples can explore the breathtaking landscapes of the Kalahari, spot rare wildlife like black-maned lions and meerkats, and enjoy luxurious accommodations. The reserve provides a truly intimate and unforgettable getaway.
Welgevonden Game Reserve
Welgevonden offers a malaria-free safari experience in the Waterberg region. Couples can indulge in intimate game drives to see a variety of wildlife, including rhinos and giraffes. The reserve's intimate lodges provide a romantic escape amidst beautiful scenery and abundant wildlife.
Amakhala Game Reserve
Amakhala combines conservation and luxury in the Eastern Cape. Couples can enjoy intimate game drives, where they can spot the Big Five and experience the beauty of the reserve. Romantic bush walks, riverside picnics, and luxury accommodations create a perfect setting for a romantic safari getaway.
Kariega Game Reserve
Kariega offers a picturesque setting along the Kariega River in the Eastern Cape. Couples can go on thrilling game drives to encounter the Big Five, enjoy romantic boat cruises on the river, and indulge in spa treatments for relaxation. The reserve provides a blend of wildlife experiences and romantic moments.
And if none of these fasinates you, here you can check all the available romantic safari getaways in South Africa. You won't regret!

Let's have a look at the safari of your choice, or make your own trip, as per your needs.
Final Words
Romantic safari getaway in South Afrcia can be once in a lifetime experience, which means that you need to plan it well. It's a one rare opportunity where you get to see the wildlife and make romance at the same time. The country provides so much to romantic couples which is the reason why South Africa is a good country for safari tours.
Bariki was born and raised in Tanzania, the land of the magnificent Serengeti, Ngorongoro, and Manyara wildlife parks. He grew up surrounded by Africa's natural beauty. Visiting his grandpa in Moshi Kilimanjaro, at the foot of Mount Kilimanjaro, provided him with early exposure to wildlife and the natural world.
As a technology and human rights blogger, he has always been passionate about writing. With many relatives working in the tourism industry, he has stayed abreast of the industry's successes and challenges, which led him to write about African safaris.
Now residing in the USA, Bariki is using his firsthand knowledge to help foreigners plan their dream safari in Africa. At Posire, he shares his expertise on everything you need to know about planning a safari, from choosing the right destination to the best time to go and what to expect during your adventure.